THE PHOTOBLOCKER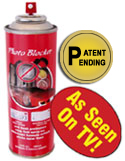 Price: $39.95

YES, IT'S TRUE ... ONE-TIME APPLICATION IS GOOD FOR LIFE!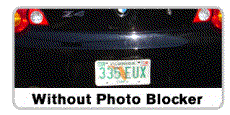 ::WARNING::
We do not condon nor encourage the use of our products to defeat toll booth cameras.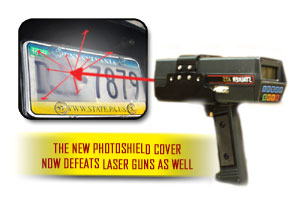 IMPROVED lens design works to absorb and diffuse incoming laser beams from laser guns, helping to prevent an accurate reading.
AVOID COSTLY TICKETS!
DESCRIPTION AND DETAILS

NEW AND IMPROVED, PATENT-PENDING!
Reflects photo radar flash. Spray it and make your license plate invisible to cameras. Proven to beat photo radar and red light camera.
Independently tested by FOX NEWS and Denver Police Department.
NEW AND IMPROVED, PATENT-PENDING!
REFLECTS photo radar flash, helping to prevent a costly ticket!
FAST spray-on formula is easily applied in minutes!
INVISIBLE to the naked eye, only you will know it is on your vehicle!
EXCLUSIVE formula! Good for up to FOUR plates.
BEST alternative for those areas where you can't use an anti-radar license plate cover!
One application of PhotoBlocker is good for life. Will not wash off, will not fade, nor will it dissolve way.
**** 30 day money back guarantee ****
How does "PHOTOBLOCKER" work?
Photo radar cameras often utilize a strong flash to photograph the license plate on your car as it speeds by. "PHOTO BLOCKER's" special formula works to reflect the flash back to the camera. Result is an overexposed and unreadable picture, often preventing a costly ticket.
INSTRUCTIONS
01. Remove plate. Place flat.
02. Spray PhotoBlocker evenly until surface is totally saturated. Let dry and repeat 2-3 times until plate is very glossy.
03. Let dry for about 2 hours. Should be good for life!