SUPER PROTECTOR
Anti-Photo Radar License Plate Cover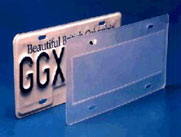 ---
U.S.A. CAR Size
(Retail Price $59.99)
You pay only
$39.95 each

*European Size
(Retail Price $89.99)
You pay only
$59.95 each

Motorcycle Size
(Retail Price $54.99)
You pay only
$29.95 each
---
*European Size, please provide plate size on the order form.
Some state & local law enforcement agencies may ban devices which obscure license plates. The buyer is responsible to know laws pertaining to Protector use.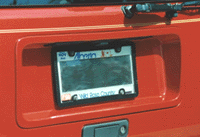 The Protector anti-photo license cover is designed to defeat all photo cameras when the camera attempts to photograph your license plate for a "ticket in the mail". It is very simple to install over your license plate, taking less than five minutes.
When driving down the highway and pulling up behind a vehicle using Protector plates, the entire alphanumeric characters of the license plate can easily be viewed, so cruisers have no difficulty seeing the license plate numbers. However, when a road side mounted camera or an overhead mounted camera attempts to photograph your license plate with the typical 30 degree angle from the roadside or overhead, the traffic camera can only see a white blur where the license plate numbers/letters are located. You sail off into the sunset, no "ticket in the mail," no points against your driving record and no undesirable exclamations! Check the local laws to ensure license plate covers are acceptable.
The Protector is an inexpensive and absolute solution for highway photo traps it is available in U.S. lengths and International license plate lengths. The Protector can also be installed with any radar / laser jamming system for a more complete highway protection.
---
*Certain restrictions may apply in certain states – check with your local authorities!