RMR-RS202D
The RMR-RS202D Remote radar laser jammer, makes your vehicle electronically invisible to police radar and laser
| | |
| --- | --- |
| | |
---
No more speeding tickets!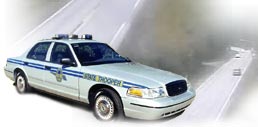 The NEW RMR-RS202D (remote scrambler) is the latest in Rocky Mountain Radars' cutting edge technology for the avoidance of speeding tickets. The RMR-RS202D has all the great features, of our most popular unit, the PHAZER II - RMR-S201. It has the jamming protection for both radar and laser. The RMR-RS202D provides up to 3 times the jamming power of our conventional units by being externally mounted to the outside of the vehicle by the license plate where the police like to aim their laser guns and optimizing the radar jamming by not being restricted by windshield glass. Plus, it gives the obvious discretion of not being readily visible by the police by hanging in the windshield. This is opportune for those discerning drivers with clandestine and security desires. The radar and laser sensors (2) front and rear jamming sensors, need to be mounted outside of the vehicle for best performance and with a clear view (no obstructions). Laser is light and won't go through anything. Radar will go through anything except metal or chrome, so remember that when installing for optimum performance. The jamming sensors are provided with 17' cables each and will need a power source only, no connection to any control panel is necessary but would recommend connecting to starter side (only when engine is started) to avoid battery power drain. The RMR-RS202D has a one-year warranty and a one-year ticket rebate included with each unit. Features include: Lidar units.

---
Features include:
Discrete Remote Installation
360 degree Scrambling
Jams all Radar (X, K, and Ka)
Jams all Laser (lidar)
One Year manufacturer Ticket Rebate
One Year manufacturer Warranty
100% FCC Legal
University Tested
Made in USA
DIMENSIONS: 7.5 X 3 X 5 Unit /pr Weight .91
The scrambler is illegal in CO, UT, CA, NE, OK, MN, IL, TN, VA and SC and Washington, D.C. It's legal in some provinces of Canada and many foreign countries.
---
*Certain restrictions may apply in certain states – check with your local authorities