PHAZER II
The PHAZER II makes your vehicle electronically invisible to police radar and laser
---
No more speeding tickets!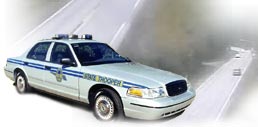 The PHAZER II ™ is the only high performance top quality all bands radar and laser jammer. The jammer makes your car invisible to both radar and laser and works so well it is backed by a one-year manufacture ticket rebate guarantee. You get a ticket, the manufacturer will pay it.
The radar component works by mixing an X, K, or Ka radar signal with an FM "chirp" and bouncing it back at the squad car by way of a wave-guide antenna, effectively confusing the computer inside the radar gun. The laser component transmits an infrared beam that has the same effect on laser Lidar units.

The Phazer II has a 2 - 3 mile scrambling range giving you time. To make speed adjustments well before you hit the danger zone. Does it really work? If you get a speeding ticket within a year while using the Phazer II, the manufacturer will pay the fine. Made in the USA Complies with all FCC regulations. Legal in most states except OK, CA, NE, MN, VA and Washington D.C.
---
Features include:
Jams radar (X, K, and Ka)
Jams all Laser (lidar)
One Year manufacturer Ticket Rebate
Three Years manufacturer Warranty
100% FCC Legal
University Tested
Manual Scrambler Test
Covers all European Radar also
Worlds Only All Band Scrambler
Cigarette plug in cord
Suction cup window mount
12 volt accessory jack
---
*Certain restrictions may apply in certain states – check with your local authorities