RMR-C435
RMR-C435 makes your vehicle electronically invisible to police radar and laser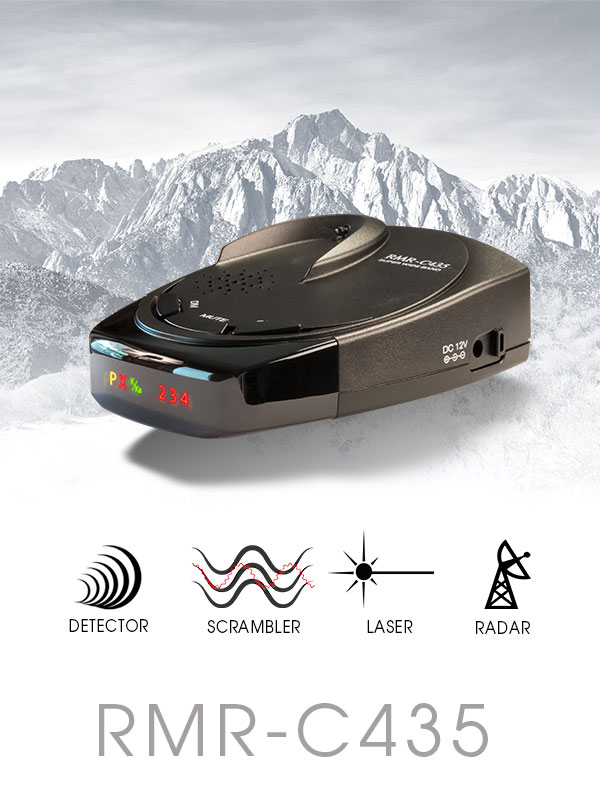 ---
No more speeding tickets!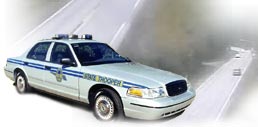 The new RMR-C435 has the newest and best radar and laser detectors on the market. It will visually and audibly notify you of police radar and laser guns attempting to read your vehicles speed. The RMR-C435 also scrambles radar and laser signals from a police radar or laser gun returning a blocked signal, making it virtually impossible for police to read your vehicles speed. RMR-C435 is state-of-the-art radar and laser detector will cover your vehicle a full 360° while the radar & laser jamming portion will cover the front of your vehicle 180° for unbeatable protection.

The manufacture is so confident in RMR-C435's effectiveness, they have included free with your purchase, a one year ticket rebate program which will pay any ticket you receive for one full year (some restrictions apply). The scrambler is illegal in CO, UT, CA, NE, OK, MN, IL, TN, VA and SC and Washington, D.C. It's legal in some provinces of Canada and many foreign countries. The C435 can be used in all states except VA, D.C. if scrambler is switched off.

Our RMR's Exclusive Built-in Jammer jams all radar and laser the FCC allows the police to use! New SMART-SCAN Software makes our RMR's the only detectors capable of capturing the new POP radar! RMR exclusive MICRO-SCAN technology searches the radar bands 2 to 4 times faster than any other detector on the market, including Bel, Valentine, Cobra, Whistler, and Uniden. Three Year Warranty, One Year Ticket Rebate, 30 Day Money Back Guarantee, Low Price Guarantee. For protection against costly tickets, it doesn't get any better than this. The choice is simple.
---
New Upgraded RMR-C435 Features Include:
One year manufacture ticket rebate program. (some restrictions apply)
Three year manufacture warranty!
MICRO-SCAN Technology
SMART-SCAN Software
Instant-On, Photo and NEW POP Radar
Detects safety alert (SA) and saftey warning system (SWS)
Selectable VG-2 / VG-3 Detection. VG-2 / VG-3 Undetectable
Unique Cobalt Blue Finish and 6 Colored Panel Bezels.
Full visual and audio 360° Radar and Laser Detector.
Forward 180° Radar and Laser Scrambler.
Jams and Detects all Radar (X, K, Ku, Ka, Superwide)
Jams and Detects all Laser (lidar)
City, Highway, Mute, Dim, Signal Strength
Selectable VG-2 Detection and Shielding (radar detector detector)
Covers all radar bands the FCC allows the Police to use (8GHz - 38GHz)
Automatic Internal Scrambler Test
Volume Control and Memory Function
University tested
100 % FCC Legal
Effective range approx. 3 miles
Dual diagnostic systems to confirm reliable operation.
Universal windshield mounting system. (Suction cup)
New Compact size: 4.3" D x 2.9" W x 1.3" H
Light Weight: 0.4 lbs.
Made in the USA
Covers all Superwide & European radar
RMR's are the World's only All Band Scramblers
| | |
| --- | --- |
| | |
---
RMR-C435's scrambling device blocks police radar and laser, making it virtually impossible to detect your vehicle's speed. The RMR-C435 detects X, K, Ku, Ka, Superwide, Instant-On, and the New POP radar. It works 2 to 4 times faster than any other radar detector on the market and has the ability to scramble any signal it receives. Our jammers do not transmit radio frequencies. The radar portion is a receiver not a transmitter. *This is why our jammers are legal! They have an FM chirp, a mixer, and a waveguide antenna for all radar bands the FCC allows the Police to use ( 8GHz - 38GHz ). The lidar ( laser ) portion transmits a specially modulated field of light from the vehicle with infrared diodes that cover all three laser guns in use today. The radar and lidar portions of our jammers confuse the radar and laser guns which prevent a hard reading of your speed. This makes your vehicle electronically invisible to police radar and laser guns. The radar jamming circuit mixes a doppler FM chirp with the incoming police radar signal and reflects it back to the radar gun. The computer in the radar gun must receive eight identical, consecutive readings before it will display your speed. All the different speeds contained in the FM chirp confuse the computer in the radar gun so it does not display any speed. This effect duplicates the normal operation that the officer usually sees. Since it is normal to occasionally lose the target speed, the officer is not suspicious. Reasonable care should be used as flagrant violators could still be caught visually with an estimated speed.
---
*Certain restrictions may apply in certain states – check with your local authorities!